You have to start a new business, arrange money to make your business shine, get machines etc. for your business, promote your business, expand your business, etc. Now there is no need to take any kind of tension. You have to complete a few formalities and after that you can easily get the business loan you want.
Self-employment is the only solution in the face of unemployment
Today's era is very high tech era. In this era, every person wants to move ahead fast by doing business and it is also possible. You just have to spend a little brain. Because nowadays there is unemployment all around and jobs are very few. In these circumstances, if a person is thinking of making progress by starting a business, then his thinking is very right.
Now the way of doing business has changed
Earlier it was said that business can be done only by a person who has a lot of capital or in whose family business has been going on for many generations, but in today's era there is nothing like this. In today's era, the person doing business should have brain skills. He can easily set up his business anytime anywhere. In today's era, government, private banks give business loans easily. In the face of unemployment, the government is also promoting self-employment and self-reliant India. The government has started many such schemes under which any new entrepreneur can set up his business without completing the formalities.
Business loan is becoming a means to recover from the impact of Corona
The whole world is going through the Great Depression during the Corona period. Every business in the world has been a victim of this Great Depression. Due to the lockdown which took almost one and a half years all over the world, all the businesses and business have been badly damaged. In such a situation, the economic condition of most of the small and small scale traders has faltered. It is very difficult for them to run their business again. In these circumstances, only business loan seems to be the biggest support. In such circumstances, many schemes are being run by the government to the businessman, while private and government banks have also run many attractive business loan schemes keeping in view the needs of the businessmen.
What is business loan
Business loan is a loan given to meet your business needs. Now one can easily get loan from banks for starting business and expanding business and for other business needs. Many beneficial loan schemes are being run by the government, ranging from Prime Minister Mudra Loan to promote small enterprise. Those who start a business and run a business can take advantage.
If you also want to get loan from any bank or government for business then you can get loan after fulfilling the criteria and formalities set by them.
How to get a loan before starting a business
Now you must be thinking that before starting the business, how will you give business loan and who will give this loan? So know that all government and private banks can give you this loan and you can also get loan from MSME. From banks, you can get a loan of Rs 30,000 to Rs 10 lakh. Whereas under government schemes, loans ranging from Rs 50,000 to Rs 10 crore can be found.
Eligibility criteria to apply for business loan | The first qualifications to take a business loan
1. What are the first qualifications a business man should have to take a business loan. First of all the credit score of the business man should be very good. If a loan has been taken earlier, then on the basis of what has been the status of its repayment, the business man decides the way to take the loan.
2. Now banks do more business of unsecured loans, then they see the credit score of the merchant first. Business man's credit score should be 700 or above. Even if the credit score remains around 650, the merchant gets a business loan with little difficulty but. In such a situation, a limit of business loan is imposed with the merchant.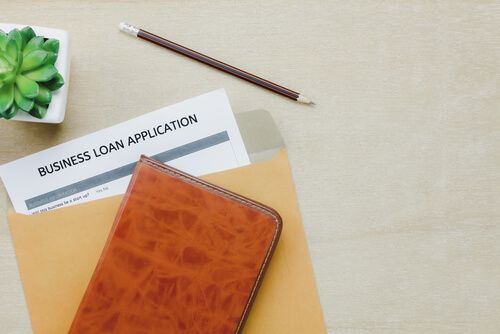 3. For business loan, the income tax return, bank statement and annual turnover of the business man are viewed by the banks. Therefore, the businessman should keep the documents related to his business correct.
4. The business man should have made an attractive business plan of his profitable business to take the loan before starting the business. In this business plan, along with starting the business and getting profit from the business, a good assessment of income and expenditure should be done. When the bank is sure that your business will run well and you can pay the loan installment from your income, then the bank will give you the loan.
5. To take a business loan, the business man should try to make his credit score better than before. When making a business plan, definitely take expert opinion.
Types of business loan – There are two types of business loans
1. Secured Loan: In this type of business loan, a security or guarantee is taken from the bank applicant against the loan. Such loans include letter of credit, bill discounting, equipment finance, POS loans, etc.
2. Unsecured Loan: In this type of loan, banks give loan without any guarantee. These types of loans include term loans, working capital loans, loans under government schemes, overdraft loans.
Key Terms to get a Business Loan
The business must have been running for more than a year.
The minimum annual turnover of the existing business should be at least Rs 12 lakh.
Business man should not have default record of previous loan.
Who can take Business Loan
1. Entrepreneurs in their own employment, start-ups and MSME sector are eligible to take loans to increase their business
2. Owners of Private and Public Limited Companies, LLPs, Partnerships and Oneman Companies and Solo Proprietor can also apply for Business Loan.
3. Entrepreneurs starting a new business can also apply for a business loan.
4. Professionals like NGOs, Co-operative Societies, Trusts, Chartered Accountants, Doctors, Architects, Designers etc. can also take loans.
What are business loans for women
To promote women entrepreneurs, special loan schemes have been started by the banks and the government. Loans for women entrepreneurs get a lot of discount in the interest rates. Banks also give a lot of concessions in guarantee and security while giving loans to women entrepreneurs.
Only if the women entrepreneur has more than 50 percent stake in the business, the company can get a special discounted loan for women, otherwise the benefits of special loan schemes set for women will not be available.
Some of the special benefits schemes for women are as follows:-
1. Udyogini Scheme
2. Mahila Samridhi Yojana
3. St. Kalyani Scheme of Central Bank of India
4. State Bank of India's Shringar and Annapurna Scheme
5. Bank of Baroda's Dena Shakti Yojana
6. State Bank of India's Stree Shakti Package Scheme
Schemes given to entrepreneurs of the Government of India
The Government of India has launched several relief schemes to promote self-employment. Chief among these are as follows:-
1. Pradhan Mantri Mudra Loan Scheme
2. Prime Minister's Employment Scheme
3. Prime Minister Employment Generation Scheme
4. Credit Guarantee Fund Trust
5. Start Up India
6. National Small Industry Corporation Subsidy Scheme
Legal documents required for taking business loan
A business man needs some legal documents to take a business loan. Before applying for the loan, the documents demanded by the banks and financial institutions have to be prepared in advance.
1. In these documents, first of all you need KYC i.e. identity card like Aadhar card, voter ID card, passport and driving license among the documents to be taken in the bank.
2. It is necessary to have PAN card, bank statement to show your business and income tax and annual turnover.
3. For address proof, you need any solid government proof of your institution's address. Be it electricity bill, telephone bill, house tax receipt, all these things are necessary.
4. Any other document called for by the Bank
5. Business registration will also have to be given proof
How to apply for business loan
Business loans can be availed both online and offline.
offline loan process
For offline application of business loan, the business man has to visit the branch of his preferred bank, where he has to fill all the information on the prescribed form after knowing the interest rates and other terms and conditions of the bank loan. Along with this form, proof of identity of your business, PAN card and proof of address of your business institution have to be filled.
Apart from this, one year statement of bank account, proof of ITR for three years and other documents have to be attached with the prescribed form. After this the bank officials decide the loan limit on the basis of your documents. After that the loan is approved.
online business loan process
We can apply for online business loan through internet and android phone and computer and laptop. For this, if the business man himself has knowledge, then he can apply himself, otherwise the help of a colleague can be taken.
step 1
For online business loan, the business man himself or through his associate has to log on to the website of his preferred bank to do it online.
Step-2
After logging in to the website, the 'Apply for Business Loan' button will appear and you have to click on that button.
Step-3
With the click of this button, the business loan application form will open in front of you.
Step-4
This form should be read carefully and the information asked in it should be filled very carefully and the requested documents should be scanned and uploaded.
Step-5
When the form is completely filled and the requested documents are uploaded, then click on the submit button given below. In this way your application will be done.
Step-6
After filling the online form, the bank officials contact the businessman over the phone after two days to get the necessary information and after being satisfied, proceed with the process of granting business loan. Business loans are available to businessmen in different banks for different tenures.
Step-7
It is believed that it takes up to a week for the bank officials to complete the formalities. In some banks, these formalities are completed even in less time.
How business loan can be used
business man can increase his cash flow
Loan can be used for expansion of your institution
This loan can be used to renew the institution
Loan can also be used for purchase of machines and equipment
Loan is convenient for hiring seasonal employees
Loans can also be used to raise raw materials for large orders
 Business loan can also be used to open branches of your own business in other cities